On Tap
Wines on Tap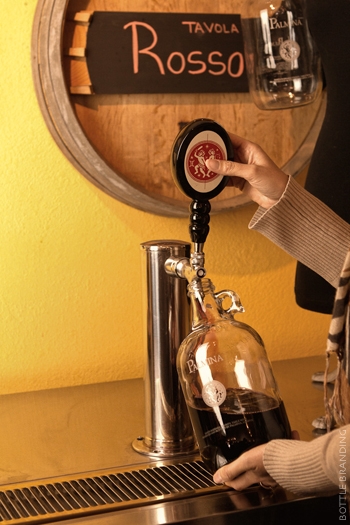 Although Palmina's "Wines on Tap" program is on the leading edge of a new trend in purchasing wine, it is actually a new way to introduce an old tradition. In the early days of California winemaking, and indeed the way it still is in Italy, people go to the Enoteca just like they would to a deli - you fill up your shopping basket with bread, vegetables, some prosciutto or salami, and then fill up your empty wine bottles with red or white table wine. We're simply re-introducing the wine part of that!
Palmina Wines On Tap are available at our Enoteca and also in select restaurants across the country. Each blend is created to complement a wide range of foods. Bianco Unico (white) and Rosso Raro (red) are more stylistic in nature than varietal specific, designed to be superb all-around wines for mid-week meals as well as gatherings of friends.
Bianco Unico
Santa Barbara County
A crisp white wine that has enough body to nicely complement even the richest sauces and foods. This is a beautifully balanced white that will pair wonderfully with seafood, pastas with white sauces, pork chops or macaroni with cheese (according to young Luca Clifton). Pour yourself a glass while you're preparing the meal! Bianco Unico - "Unique White". Uniquely Palmina!
Rosso Raro
Santa Barbara County
This is your spaghetti and meatballs on Wednesday and pizza on Friday wine. Ready to enjoy, this red wine is chock full of fruit flavors, subdued tannins and lively acidity. While you could, there is no need to swirl, sniff and sip - simply pour yourself a glass while you're simmering the marinara, then enjoy with tomato based dishes, stews and hearty risottos or an after-dinner TV show or movie. "Rare Red" indeed - rare to find such a good red wine for everyday enjoyment!
Bianco Unico and Rosso Raro can also be found in restaurants and wine bars that serve wines by the glass. Wines delivered in keg to these establishments are good for the environment, and allow Palmina to offer these two wines at an extremely affordable price. There is no waste with bottles or closures, and the wine is always perfectly fresh.