November 24, 2015 |
Palmina Thanksgiving Menu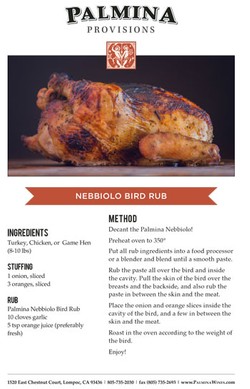 ( Click to download our
Nebbiolo Bird Rub recipe card. )
"Gratitude is the inward feeling of kindness received. Thankfulness is the natural impulse to express that feeling. Thanksgiving is the following of that impulse."
—Henry Van Dyke
With Thanksgiving just a few days away, the web is flooded with turkey recipes, inventive stuffing variations, and tributes to the jellied cranberry sauce. Still looking for those special dishes to make this Thanksgiving the best one yet? We have a beautiful California-style lineup set to send your tongue into mouthwatering overdrive. As O. Henry noted, "There is one day that is ours. Thanksgiving day is the one day that is truly American." Hear, hear! In that spirit, we encourage you to shop American, and even local in your meats, produce and wines. Pick one, pick them all, you are sure to impress your guests with these delicious Steve Clifton made and tested recipes:

Palmina Thanksgiving Menu
Alisos Drizzled Dates
Welcome your guests this addictively delicious appetizer. Skip the arugula portion of the recipe and arrange with toothpicks on small dishes.
Pair with the crowd-pleasing Palmina Alisos (blend of Sangiovese & Merlot)
Roasted Beet Salad
A truly California-style classic dish. Organic arugula and beets alongside walnuts keep it feeling perfectly fall-like.
Pair with the fragrant, yet beautifully dry Palmina Malvasia Bianca
Asparagus Bisque
We love our asparagus in California, and we have found there is no better wine to pair than Tocai Fruilano! This soup will warm the hearts and bellies of everyone at the table.
Pair with Palmina Tocai Fruilano, Honea Vineyard
Barley Squash Risotto
Lend a nutty twist to the traditional risotto. This comforting and tummy-warming dish is sure to please turkey lovers and vegetarians alike.
Pair with Undici, 100% Sangiovese, Honea, Fiore, and Alisos Vineyards
Roasted Turkey with Nebbiolo Bird Rub
Orange slices keep it juicy and tender while the onions and rub give just the right amount of flavor and spice. This is your new Thanksgiving turkey recipe!
Pair with any of our Nebbiolos, including our incredible Single-Vineyard Nebbiolo Rocca 2008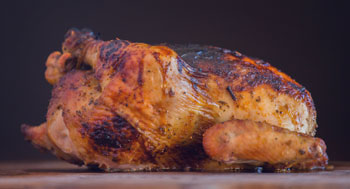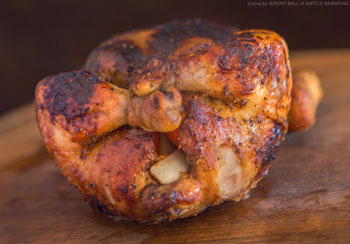 Find these recipes and more mouthwatering dishes in our recipes area.
Also check out our Palmina Provisions line, including our famous Nebbiolo Bird Rub and variety of olive oils.
Loved what you saw? Stay tuned for our Christmas menu and gift ideas coming in December!
From all of us here at Palmina, have a safe and wonderful Thanksgiving. Salute.


Comments
Commenting has been turned off.