Sangiovese, Sogno del Fiore 2017
Black cherries upon opening. Kalamata olives, fresh porcini mushrooms, capers and bright fruit linger on the palate, the wine finishes with a hint of anise and velvety tannins.
Purchase >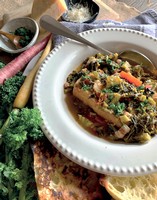 Ribollita - Italian Bread Soup
We love this hearty, filling, and infinitely nourishing Tuscan stew made up of vegetables, beans, and pieces of rustic bread. Feel free to use whatever vegetables you have on hand as this soup is easily adaptable.
Recipe >