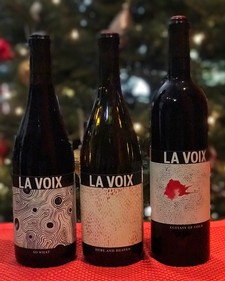 La Voix New Release Pack
2014 So What SYRAH, Rancho San Ysidro
The nose shows nutmeg and mace with a slight hint of Mexican sage and cinnamon. As the wine opens you find the distinct memory of smoked pork belly and black cherry. On the palate are pomegranate, blackberry and black plum skin. So What finishes with a velvety richness and a touch of aged balsamic.

2015 Here and Heaven, CHARDONNAY, John Sebastiano Vineyard
Here and Heaven is all about treble, with high, lilting scents of lemon thyme, Thai basil and white citrus blossoms. On the palate, an energetic burst of citrus, Meyer lemon and mandarin orange dominating. A sweet pecan lifts in the mid-palate, with a subtle hint of honeysuckle, finishing with soft textures of melon and lime curd.
93 Points — Terroirist
93 Points — Wine Enthusiast

2013 Ecstasy of Gold, CABERNET SAUVIGNON, Santa Barbara County
Dried sorrel and marjoram mix with aromas of dried plum, vanilla, blonde Virginia tobacco and violets. Bing and black cherry, red plum with a slight mint quality give way to pleasing glove leather and lavender notes.
92 Points, Editors' Choice — Wine Enthusiast
TASTING NOTES
FOOD PAIRINGS