The Palmina Blog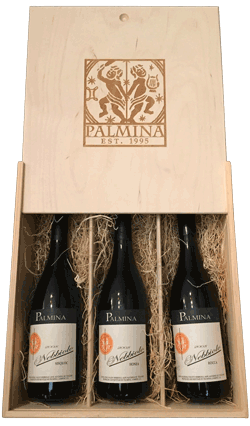 Every year here at Palmina we celebrate our favorite noble grape of Italy, the notoriously testy but undoubtedly lovable Nebbiolo. Exhibiting a stunning range of flavor profiles, from a powerful, muscular king to a sophisticated, elegant queen, Nebbiolo can stop even the most seasoned wine drinker in their tracks. It's both cerebral and visceral at the same time, one to contemplate and one to wildly enjoy.
The exact origin of Nebbiolo is debated in wine circles, whether it hailed from the Piemonte of Northwest Italy or from Lombardy in the central North. In either case, it was lauded by the famous Pliny the Elder in the 1st century, and by the 11th century was the official court wine of the House of Savoy, rulers of the Piemonte for over 800 years. It is no wonder Barolo became known as "The King of Wines, the Wine of Kings!" Tragedy struck in the 19th century, when phylloxera decimated Nebbiolo, and as a result other varietals like Barbera and Dolcetto took over the reign of Piemonte. Today, Nebbiolo is only grown in about 6% of the Piemonte, but keeps its regal reputation with the classification DOCG in Barolo, Barbaresco, Gattinara, Roero, and Ghemme. Factoid: It's also an allowed grape in the delicious bubbly wines of Franciacorta.

The name "Nebbiolo" is also debated, with the majority of wine lovers understanding it deriving from the Italian word "nebbia", which means fog and refers to the dense layer that accumulates in the vineyard around harvest. Others argue it harkens to the fog-like appearance of the grape as it matures, while still others state it derives from the word nobile, or "noble." We love to argue stuff in the wine business, don't we?
Here in California, Nebbiolo, along with other native varietals were the first European varietals planted. Arriving on the backs of Italian immigrants in the 19th century, Nebbiolo was first planted in 1802. Steve Clifton and Palmina first started working with the noble grape in 1997, and those of you who have been with us since the beginning, know the incredible wines these vines have given us over the years!
Our current vineyards each have their own distinctive personality, and when blended together they belt out a perfectly tuned Italian opera:
Sisquoc: The tenor. The rowdy rebel. Tannic and forward. Notes of bright cherry, orange peel, brambly raspberry, cedar, and rocky minerality.
Honea: The soprano. Gorgeous, elegant, and sophisticated. Mellifluous notes of rose petals, tea leaves, cherry, herbs, beautifully integrated tannin, and a leather whip.
Rocca: The baritone. The muscle and the structure. Deep, dark and brooding, with notes of dark cherry and plum, tar, tobacco, smoke, and black truffle.
Try each of these individually and together in our SBC (Santa Barbara County) Nebbiolo blend. ALL ON SALE NOW to honor Nebbiolo Month.
Stay tuned for our Thanksgiving post next week for our favorite Nebbiolo pairings...
Until then,
Salute!

Laurie is the National Sales Director for Palmina Wines and loves to spread the passion of Palmina and Italian varietals to wine lovers nationwide. You can find her at laurie@palminawines.com