December 11, 2015 | Laurie Delk
The Feast of the Seven Fishes
The Feast of the Seven Fishes, or Festa dei sette pesci is a traditional Christmas Eve celebration of Italian-American origin. And who better than Palmina Wines to support and promote this fabulous feast here in America?
The exact history of the feast is shrouded in culinary and religious history, but it is believed it derived from the Catholic tradition of abstinence during holy holidays including Lent, and the regular refraining of meat and dairy products on Wednesdays and Fridays. Thus, Catholics began a long standing history of eating fish on these days. The celebration of Christmas Eve specifically commemorates the Vigila di Natale, the birth of the baby Jesus at midnight.
Why the number seven? While the exact explanation varies, theories abound about its origin. Many say it represents the seven days of creation, while others note the seven sacraments of the Roman Catholic Church, and the seven hills surrounding Rome. Whatever the true cause, the result has been a rich and mouthwatering tradition of incredible food, family, friendship, and love.
Here is our special Palmina seven course lineup, based on the weight of the dishes and wines. But feel free to mix these up and switch them around for your own unique feast!
COURSE #1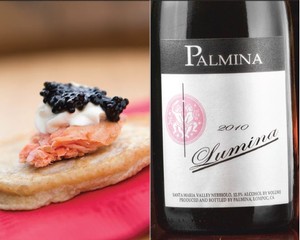 Buckwheat Blinis with Caviar, paired with Palmina Lumina (sparkling Nebbiolo)
Who wouldn't want to start any meal with caviar? The perfect homage to birth and the beginning of the meal, the Buckwheat Blinis are one you will carry over to your New Year's celebrations! Pair with our delectable & bubbly Lumina.
COURSE #2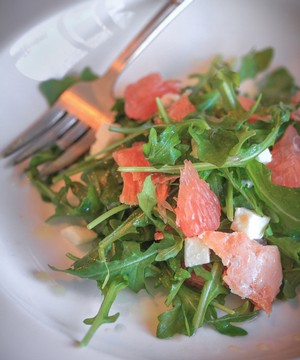 Salmon Citrus Salad, paired with Palmina Arneis
Keeping things light in the opening courses, this delicious salad combines baby arugula, pink grapefruit, ricotta salata and smoked salmon. Don't forget to add our delicious Palmina Lemon Olive Oil! Perfectly paired with our crisp & citrusy Arneis.
COURSE #3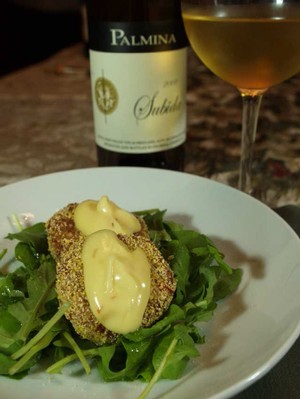 Tuna Cakes with Saffron Dressing, paired with Palmina Subida
Keep these on the small side for an introductory course or make larger portions for later in the meal. Combine Italian tuna, onion, pepper, and celery, along with eggs and breadcrumbs to create a moist interior and crunchy exterior. Serve with our complex and unique "orange wine," Subida.
COURSE #4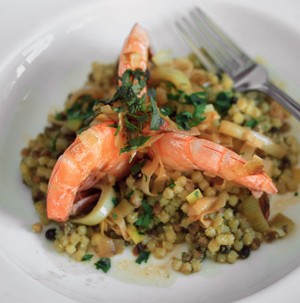 Giant Shrimp with Sardinian Couscous, paired with Palmina Vermentino
Hang onto that glass of Vermentino for this course, a beautiful counterpoint to the Salmon Citrus Salad. Plump sauteed shrimp atop a unique pasta from Sardinia make this a standout in your feast.
COURSE #5
Linguine with Pesto Genovese and Lemon Scallops, paired with Palmina Cortese
This simple but mouthwatering dish is all about freshness. Enjoy making your own pesto (have a glass of wine while doing!) and watching your guests face light up as dive into the scallops. The crisp and clean Cortese is a spot on match.
COURSE #6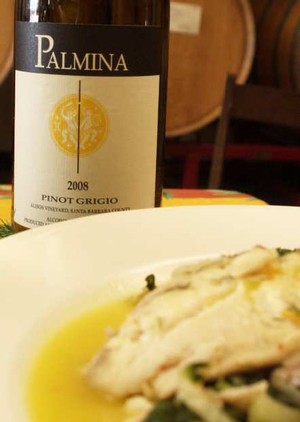 Pinot Grigio Poached Seabass with Fennel and Orange, paired with Palmina Pinot Grigio
A wonderful, melt-in-your-mouth course with our most popular wine is one you won't soon forget. Using Black Seabass, onion, fennel, orange juice and zest, it's both refreshing and delectable.
COURSE #7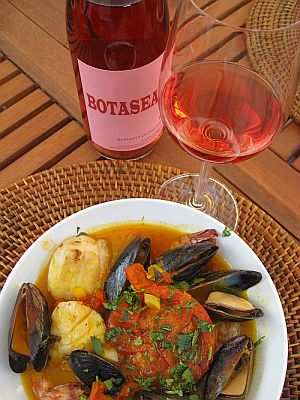 Grilled Cioppino, paired with Palmina Botasea Rosato
If you are lucky enough to have a bottle or two of Chrystal's Rosato, here is your perfect pairing! As your final course, this comforting Cioppino combines mussels, shrimp, and scallops in a warm and hearty broth. The more full-bodied Botasea handles the dish with the power of a red, but the crispness of a white. Be sure to serve with crusty Italian bread.
Find all of these mouth-watering recipes on our website at palminawines.com/recipes.
From our Palmina family to yours,
Buon Natale!
Salute!
Comments