May 9, 2017 | In the Kitchen | Steve Clifton
Food & Wine Pairing of the Month
Grilled Lambchops with Fennel & Radicchio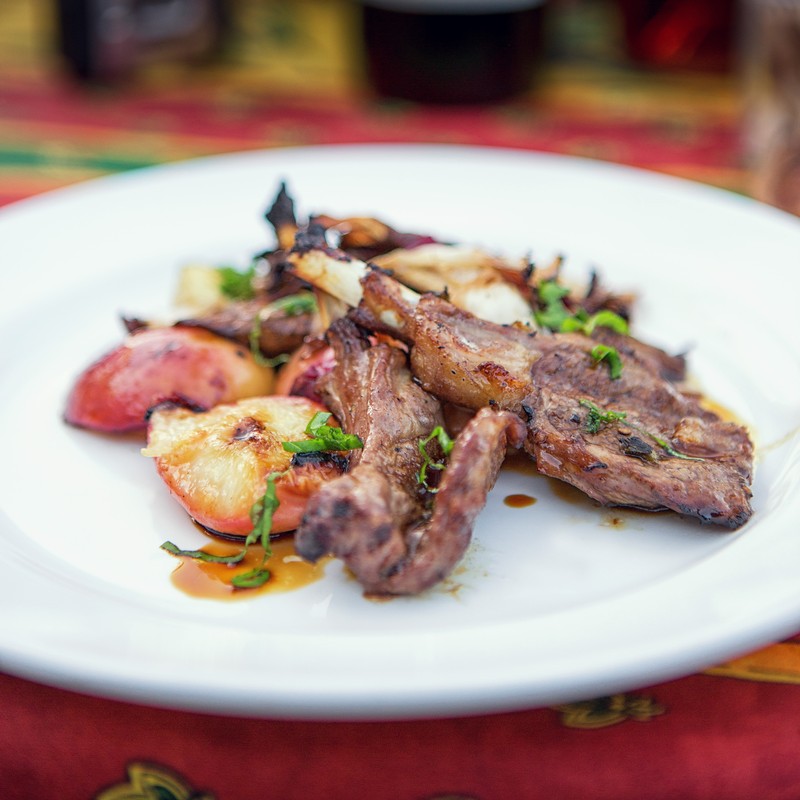 INGREDIENTS:
1 - 1 1/2 lbs lamb chops, cleaned and portioned
2/3 cup extra-virgin olive oil
1/3 cup red wine vinegar
2/3 cup Palmina Nebbiolo Rocca
2 tablespoons fresh oregano, chopped
2 tablespoons aged balsamic
2 fennel bulbs, stalk removed and into 1/4" pieces but with the bulb end still attached
1 head radicchio, cut into 1/4" pieces with bottom still attached so it is easy to flip
Salt & pepper
2 tablespoons honey
METHOD:

Place 1/3 cup extra-virgin olive oil, wine, vinegar, and oregano in a large Ziploc bag or bowl. Mix Well. Add lamb chops to marinade for 30-60 minutes.
Place the radicchio and fennel pieces in a large Ziploc bag and toss with honey and remaining 1/3 cup of olive oil.
Heat grill and place the lamb, fennel and radicchio on grill. Grill the lamb until medium rare, about 5-7 minutes each side.
Grill the fennel and radicchio on both until the radicchio is slightly wilted and the fennel is softened. Remove from the grill. Chop the fennel and radicchio and toss with balsamic vinegar.
Serve the lamb on top of the chopped grilled veggie salad.

Enjoy with a glass of Palmina Nebbiolo Rocca!
Comments
RolandoPittman
@ May 11, 2017 at 9:16 PM
Wow!! Yummy. What an attractive and interesting stuff it is. I think all the ingredients with this recipe make a delicious one. Virgin olive oil, wine, vinegar, and oregano combination also very testy. Thank you so much for share for us. Sure I will try this Grilled Lambchops with Fennel & Radicchio.
HozardDex
@ May 22, 2017 at 7:26 PM
india viagra [url=http://viagra-withoutdoctor.net]viagra without a doctor prescription [/url] viagra 20mg online forum rules viagra no prescription - viagra 20mg side effects posts viagra mayo marriage counseling wang wangs
JazesOmits
@ May 25, 2017 at 7:25 PM
cialis forum [url=http://viagra-withoutadoctors.com]viagra without a doctor prescription [/url] taking viagra with cialis viagra without a doctor prescription - 40 mg cialis cialis 10 mg 4 tablet delete all board cookies
Billyzedulp
@ May 26, 2017 at 9:07 AM
viagra and alcohol consumption joined [url=http://viagra-withoutadoctor.net]viagra without a doctor prescription [/url] diabetes and ed viagra without a doctor prescription - buy affordable viagra,viagra levitra organic viagra herbal equivalent
Rakhiinindia.in
@ Jul 21, 2017 at 11:36 PM
Your posts are always the best and most impressive. The information you provide in the post reduces the difficulty to the extent that you hope you will continue to post and help us. http://www.rakhiinindia.in/cake-delivery-in-noida.html