March 20, 2017 | In the Kitchen | Cathy Baer
Food & Wine Pairing of the Month
Cortese Steamed Mussels
As you may know, all of our Wine Club shipments include a recipe meant to be paired with the new release wines included in the shipment. We've been asked repeatedly to share these food & wine pairings, so here's one of our most recent: classic and simple, steamed mussels paired with our 2015 Cortese, a wine with bracing acidity and refreshing minerality, meant to be enjoyed with seafood!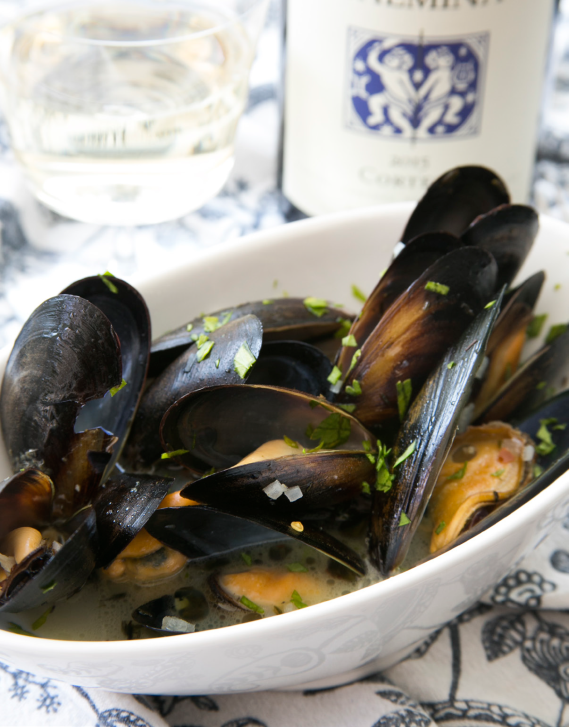 INGREDIENTS:
1 Bottle White Wine, 2015 Palmina Cortese
1 Quart Mussels
1 1/2 Cup Palmina Cortese
1 Shallot chopped fine
3 Tbls. Butter
1/2 tsp Dried Thyme
pinch of salt, pepper and Red
Pepper Flakes
2 Tbls. Fresh Parsley Chopped

METHOD:
Wash and clean the mussels. Throw out any fresh mussels that do not close when tapped.
Pour the wine, shallot, butter, thyme, salt, pepper, red pepper flakes into a saucepan. Bring to a
boil.
Add Mussels, cover the pan, turn heat down and steam the mussels for about 8 minutes until all
have opened. Throw out any unopened shells.
Put Mussels into a deep dish, pour over the broth and sprinkle with Parsley.
1520 East Chestnut Court, Lompoc, California 93436 | 805.735.2030 | www.PalminaWines.com
Comments
Essy writing
@ Apr 4, 2017 at 2:46 AM
I am a big fan of your site.Thank you for just useful article. I agree that reader should want to know what will happen in the book. The job of the writer is to feed reader's interest. Keep it up.I am not affected, but it really heartens me to see people reaching out and supporting their fellow human beings in times like this. If I can be of any help, please let me know.
ThozasQuark
@ Apr 10, 2017 at 9:58 AM
cialis pills for men [url=http://pharmashop-online.com]generic cialis [/url] cheap cialis cialis generic cialis - erections after using cialis cialis 20mg registered users
Trenztix
@ Apr 18, 2017 at 11:24 PM
viagra trackbacks deja un comentario [url=http://viagra-withoutadoctor.com]viagra without a doctor prescription usa [/url] online canadian pharmacy viagra viagra without a doctor prescription - viagra 5mg cost it is currently viagra 10mg reviews the team
Roberthoush
@ Apr 26, 2017 at 4:06 AM
What rapper would phone a lady that he was rapping a line about to get approval?" for free Kim Kardashian tape http://rolfwork13.skyrock.com/3276040272-A-Kanye-West-intercourse-tape-is-about-to-break-the-world-wide-web.html - looking here. It was only a number of days ago that the first of the Rob Kardashian fat reduction rumors began to spread.